Pacific Mariner Yachts was founded in 1996 by the Edson family. Driven by a lifelong passion for yachting, company president Jack Edson inherited an enviable success record in the yachting business, as his father Orin Edson was the founder of Bayliner Boats. Growing up in the business, Jack has a deep understanding what it takes to ensure success, constantly striving to earn the respect and loyalty of each customer. Jack, and his partner John Seabeck, play a direct role and ongoing role in the design, development, construction, delivery and service of each Pacific Mariner yacht. They sweat the details, applying their own considerable knowledge and experience to produce yachts of uncommon luxury, performance and reliability, ultimately designed for easy owner operation. Jack personally takes each yacht through an exhaustive sea trial to ensure all systems perform and function as designed. Through continuing customer feedback, Jack & John are able to identify opportunities for improvement, applying the latest advancements in materials, technologies and components to continually refine Pacific Mariner's yachts. Pacific Mariner produces a limited number of yachts each year, with a primary focus on quality, as opposed to quantity. Pacific Mariner yachts are designed by renowned naval architect William Garden, with an emphasis on cruise speeds in the 20-knot range. Equally important, Pacific Mariner yachts are designed to offer sure-footed tracking and smooth, dry rides in rough offshore conditions, such as those found in the Pacific Northwest where Pacific Mariner yachts are built.
Pacific Mariner 85' RPH MotoryachtA Genetic Infusion Updates A Popular Model Redux is a term used in literature and film-titles meaning "restored" or "brought back". It's been known to signify a "new interpretation of an existing work". Befitting for yachting's use also, it can be aptly applied to the new Pacific Mariner 85.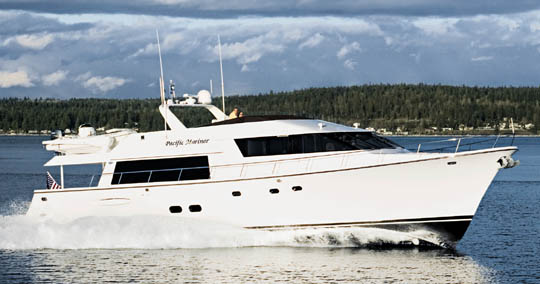 Perhaps you have dreamt of a motoryacht that could be handled by yourself and the love of your life – just the two of you, voyaging wild and free on the world's oceans to all those exotic, faraway ports. If so, you have most likely not considered any standard-built yacht over 65 feet. That size has long been accepted as the "most" yacht two regular, experienced yachtspersons could manage, without crew, under normal circumstances.