Hinckley Yachts was founded in Southwest Harbor, Maine. Hinckley produces a line of semi-custom, down-east style, lobster boats. The company was started in 1928 be Henry R. Hinckley producing mostly work boats. Hinckley has grown quite a bit since then, with yards in Southwest Harbor and Trenton, Maine, Rhode Island, Maryland, Georgia and Florida. Hinckley was a pioneer in the use of advanced composites, such as Kevlar. They were also one of the first yacht builders to adapt the resin infusion process known as SCRIMP, a process that results in more consistent laminations, as well as being less harmful to the environment. Their popular line of day boats feature modern planning hulls with available water jet propulsion systems.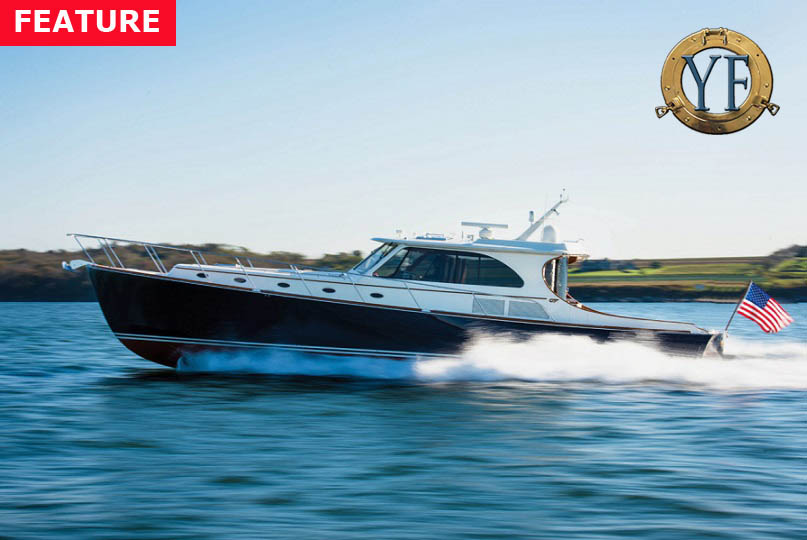 Talaria models from Maine-builder Hinckley Yachts go back a few years but we haven't covered many of them. In fact 2012 was perhaps the last time YF looked at one. For 2022 though Hinckley has the latest in the Talaria line, the flagship Talaria 57. Hinckley builds in different styles that touch on Picnic Boats, Downeast and even outboard models. The Talaria 57 though is a jet-driven boat full of American style and craftmanship -arguably the best in their market segment- as Hinckley themselves say, "finestkind".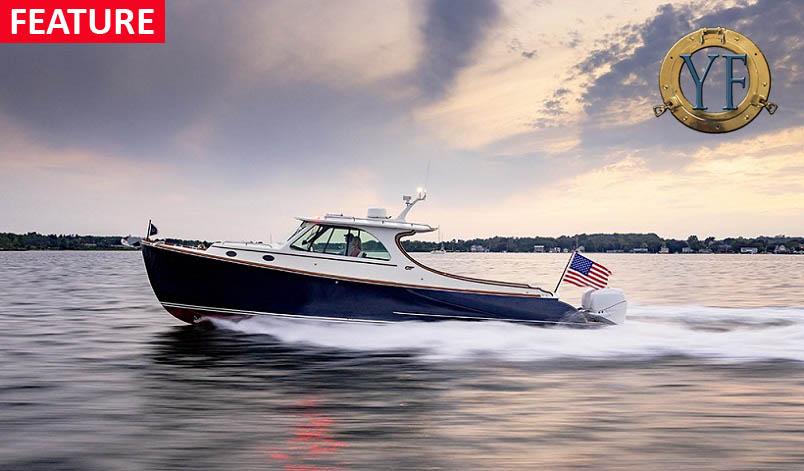 Approximately 12 years ago Hinckley Yachts was introducing the Hinckley 34. Fast forward to just after mid-2021 and the company delivered the first Hinckley 35. The 35 is an outboard beast for dayboaters and weekenders. Michael Peters penned the hull which was crafted for the full look and appeal of a Hinckley, yet be its own distinctive creation. This resulted in a family-oriented, outboard powered vessel that combines exhilarating performance with the highly refined beauty, craftsmanship and quality Hinckley is known for around the world.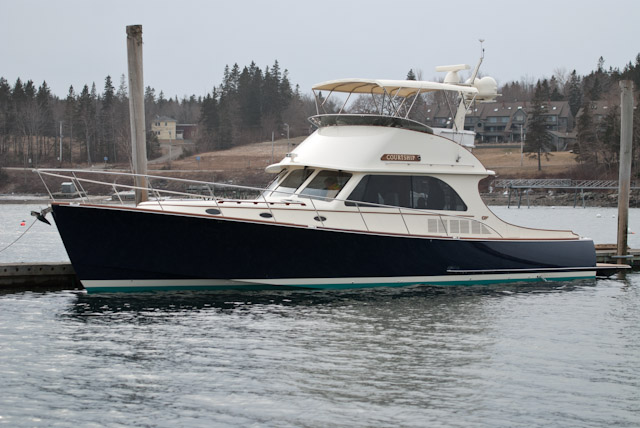 The Hinckley Company Christens Its Talaria 48 Earlier this year Hinckley introduced and christened a new motoryacht, the Talaria 48', to their line of yachts and to the world. The boat joined the first family of American yachting, a family with roots in Maine workboats and branches as distinguished as the Bermuda 40 and the Picnic Boat. With its state-of-the-art construction, classic styling above the waterline, and innovative design below, jet propulsion and patented JetStick control, this stunning 48-foot yacht is already earning her place in the Hinckley family. In preliminary sea trials, targeted boat speeds of 30 knots at cruise and 35 knots top were easily met on the motoryacht version of the boat with standard twin Cummins QSM 11s. In heavy seas and breeze, the boat rode very comfortably. Hinckley Production VP Mike Arieta credits Michael Peters who designed the Talaria 48. "A fuller bow with convex sections that reduce the rise and fall motion gives the boat a softer ride. Whether you're crossing the gulfstream for the Bahamas or you're making your way across Vineyard Sound, the ride quality is so important. Talaria 48 owners will also enjoy reduced cabin sound levels and the enhanced visibility that the forward positioning of the cabin and helm station affords in this boat." Meeting the yacht's design weight is a result of Hinckley's artful blend of construction technologies. The company makes use of SCRIMP vacuum bagging and the latest in foam coring to prevent burdening the hull with non-structural components. "The boat sits perfectly on her lines which aids performance and also makes her beautiful to look at," says Arieta. For more information: The Hinckley Company One Little Harbor Landing Portsmouth RI 02871 Welcome to Hinckley ***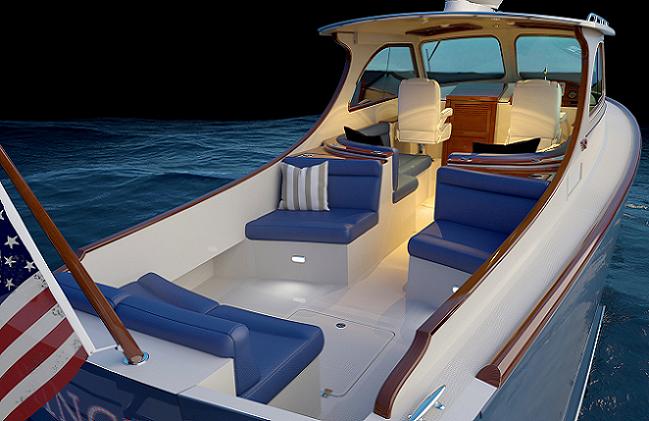 The Hinckley Company Announces New Hinckley T34 Fast and fun-loving were the keywords used to describe the new Hinckley T34 when the company's President and CEO Jim McManus made the announcement on Friday at the Ft. Lauderdale Boat Show. "We've designed and equipped the boat for the way people told us they'd like to use it: as a go-anywhere, do-anything day boat that is equally suited to thrilling the kids on an afternoon tube ride to having friends aboard for a sunset cruise." What is different about the new model is a simpler level of detail as standard. "When we embarked on this project, we did a lot of homework and polled a lot of boaters. They overwhelmingly expressed an interest in a simpler boat, one without too many of the things that often go unused. The Hinckley T34 is fitted out to encourage an owner to use the boat even if he or she only has a short window of opportunity. "The one thing the boaters we talked to aren't prepared to give up," McManus continued, "is speed. It's part of the fun, part of the sport." The new boat is equipped with twin Yanmar 6BY2- 220s and with those as standard, the boat is predicted to attain a top end speed of 30 knots, or 33 with the optional 260s. Because of the non-variable load characteristic of jet propulsion systems, Yanmar is providing an unprecedented five year warranty for the engines. Hamilton Jets is supplying the company with the Hamilton 242 product developed exclusively for Hinckley's applications. The lines of the Hinckley T34 clearly carry on the family tradition established by the Picnic Boat. The signature curve from rooftop to cockpit coaming, the tumblehome, and the half-round toe rail describing the sheerline are familiar hallmarks. Brand watchers will also recognize the patented Jetstick at the helm and the boat's scant 22 inches of draft. "The boat goes where others cannot," says McManus, "and that adds to the adventure." Exactly one year ago The Hinckley Company announced its Talaria 48 at the Ft. Lauderdale Show to enthusiastic response. Nine of the cruising-oriented Talaria 48s have been sold to date. The first one is expected to hit the water in late January and make its debut in Miami in February. The new Hinckley T34 is expected to launch in July. For more information: The Hinckley Company One Little Harbor Landing Portsmouth RI 02871 Welcome to Hinckley ***