Azimut Yachts opened for business in 1969, and is headquartered in Avigliana, Torino, Italy. With its own facilities and the Benetti yards acquisition in 1985, Azimut owns yards in 4 regions. The Avigliana yard presents a boat production capacity of 270. Savona has a Service and Delivery center. Viareggio has the Azimut-Benetti production and refitting center and the Benetti yard. The Azimut-Benetti Production Center is in Fano, creating GRP hulls. The yards can hold different sizes of yachts, from 39 feet to 165 feet in length, though yachts produced are 39 to 98 feet in length. Azimut also offers customers the opportunity of chartering of their own boats though preferred dealers. The latest launch is the flagship 116, a magnificent 35m motoryacht designed by Stefano Righini. The president of Azimut Yachts is Paolo Vitelli, who started his company in Turin, Italy, The Benetti shipyard, based in Viareggio had been owned by the Benetti family since its foundation in 1873 and in 1985 was taken over by Azimut. The yard had earned an exceptional reputation as the producer of yachts in classical lines, fitted out with luxury interiors. In 1994, inspired by the automotive sector, and after stringent test done by skilled engineers, Azimut introduced the frameless window to the market. Thanks to a special elastic paste - capable of expanding its length eight times - the lateral windows were glued directly onto the fiberglass, without the need of any steel frame. The result was an unprecedented leak-proof design. In 2001, the new modern elegant industrial complex of Avigliana was opened. Built on an area of 165.000 sq. yards, of which 55.000 sq. yards are covered. It was been designed specifically to host the most advanced techniques and equipment for the production of yachts up to 68', with tight quality control in every step of the process. In June 2003, on the occasion of the new logo introduction ceremony, Azimut presented to the press the new Viareggio plant. Based in the heart of Viareggio harbor, this area of 52,000 sq. yards positioned on the water's edge to allow the Company to significantly extend the current operations. The facilities were totally re-built, the project lay-out being in line, in term of style, rationality and technological equipments, with the other Azimut – Avigliana shipyard.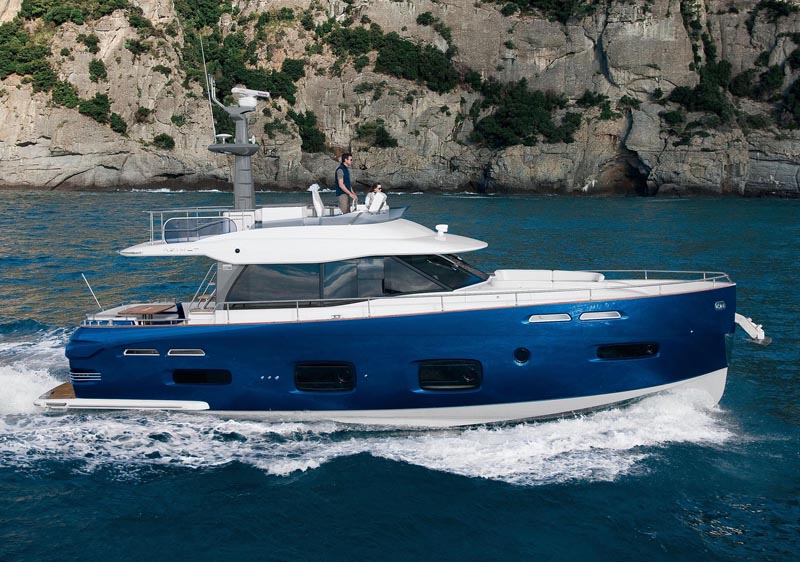 Azimut 50' Magellano The Pocket Yacht Comes of Age Review by Capt. Chuck Gnaegy For a 50-foot yacht exhibiting in YFs outstanding World Yacht Show of 100+ footers, this pocket-sized cruiser presents a smooth, even urbane entry; with several firsts in cruising lore to be noted. Glossy & lustrous, she curtsies to no large yachts and makes no apologies. Rather, she's an urbane acknowledgment that yes, she does belong. All business, offering several advances in hull and power design, Azimut's Magellano 50 is poised; as genuine as a handshake from a trusted top executive; a builder with a reputation for excellence and acclaim. Here is the first 50 yacht to earn the RNA Green Plus classification, sporting large UV film windows, low emission engines, high performance hull and props, LED lighting, hybrid propulsion, FSC Certification for fuel efficiency, plus sound insulation. All register as genuine advances in yacht design. She is a first class prize entry, for certain. So; Welcome to YachtForums!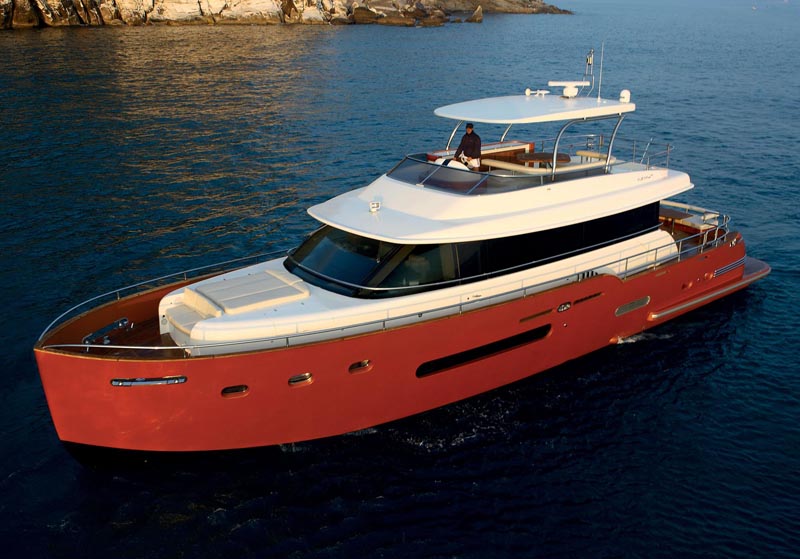 YF checks into Azimut's extensive, exacting production of its newest launch, via 4,000-miles of Sea Testing for its latest delivery – though perhaps not quite as yet Magellanesque-earth-circling – Call her: "Ma-gell-an-o-74." Historic Note: "Ferdinand Magellan; Sail – AD 1521: 1st World-Circumnavigation." Every Yacht Builder's new models are the results of extensive programming and testing before, during and after the ultimate build is introduced to a highly exclusive Yacht Market. Meticulous design/evaluation and processes create a special "personality" for each new yacht generated, so it becomes a recognizable "face" for the yachting public. True Yacht Buffs chronicle a sighting; similar to a new car edition– "Look! that's the 2011 Azimut".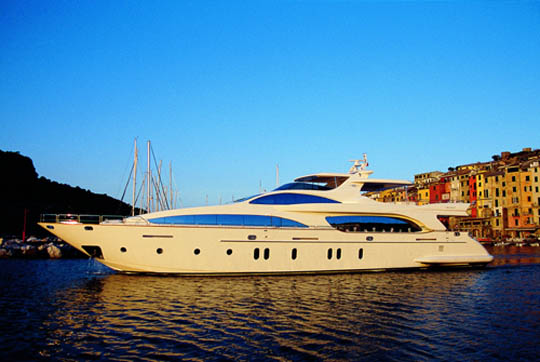 Azimut 116' Motor Yacht The new Azimut 116' Motor Yacht, with its mirrored windows, reflects the epitome of modern Italian yacht design. As one of the world's leading yacht builders, Azimut is continually challenged to create yachts that exceed their customers requirements and surpass their own expectations. Azimut has long been recognized for cutting edge style, but this new yacht is a real cut above. It is proof that a designers imagination can become an engineers reality. Join us for a brief tour of this sensational and stylish new launch from Azimut.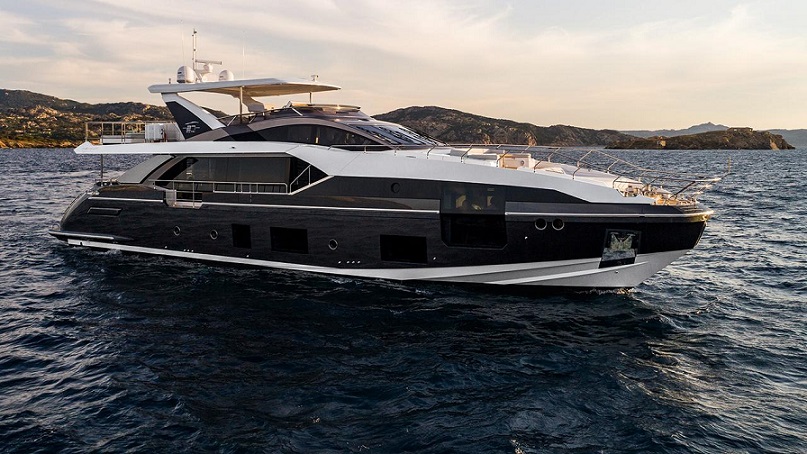 Italian builder Azimut successfully debuted the 27-meter Azimut Grande at the just concluded Cannes Yachting Festival. The yacht's fitout was done in a manner they typically made for their smaller vessels. In-other-words, the hull had it's interior fully fitted before the superstructure was added. Azimut is proud to say that they have brought the only wide-body, five-cabin raised-pilothouse 27-meter yacht to the market.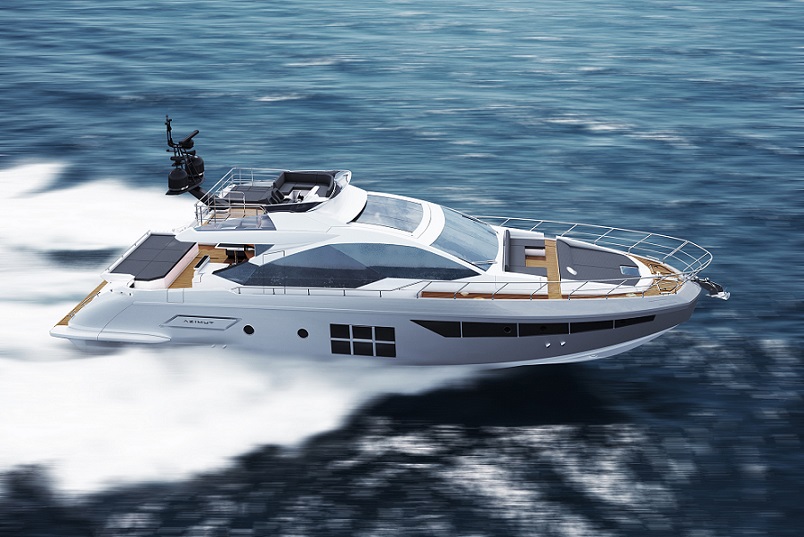 Azimut recently revealed a new model to the world. The Azimut S7 is a 21-meter express yacht that will either come in Sport-Fly of Coupe versions. The S7 is using carbon fiber in the construction particularly in the superstructure. Stefano Righini is responsible for the exterior design while the interior is the work of Francesco Guida. Although the design of the yacht has been revealed, the official presentation by Azimut will be at this year's edition of the Cannes Yachting Festival in September.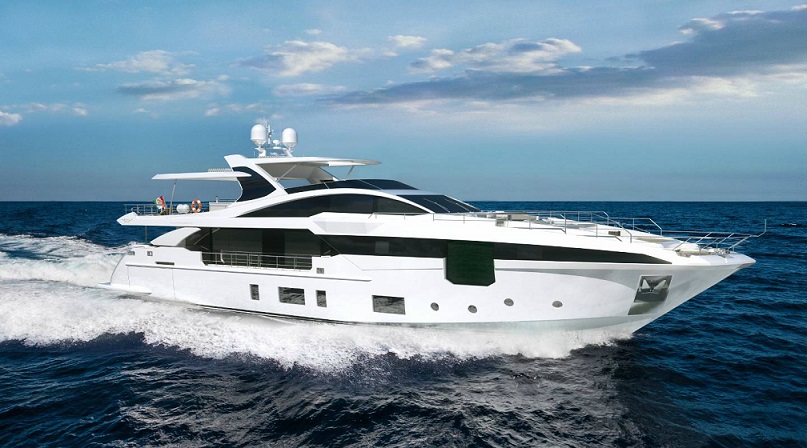 On the 7th of September, Azimut unveiled a new model to the yachting public -well actually two and gave an update on their status during a press conference-. The Azimut Grande 35-meter was announced two days ago also with the news that the first hull in the new series has been sold to a Middle-Eastern customer. The new hull is presently under construction and is expected to be completed in early 2017 and make an appearance at the Dubai International Boat Show.