During the 1950's, Cantieri Navali Lavagna started their production of wooden yachts employing the brand ARCOBALENO Super, then PRESIDENT. The first ADMIRAL boat was built in 1966. It was 18 meters in length and made of wood, Naturally, materials have evolved, but in the mid 1970's Cantieri Navali Lavagna launched the first ever 30 meter motor yacht and it was built in wood as well. A yacht of this size was unprecedented at the time. As Admiral grew, it began developing planing hull yachts, such as "MAU MAU", a 34 meters yacht with 32 knots of speed. Then came a succession of 30-meter planing yachts, such as "SAHARET", "IPSUM", "ERAF", "KADIA", "SAUDADE". Having chosen the path of high-performance yachts, Admiral adapted the use of alloy in their builds. The first was built in 1982, a 23.5m light alloy yacht named "Boule Dogue", or Bull Dog. From that point forward, Admiral's material of choice was steel and aluminum, materials that guarantee strength and performance according to weight and content, maximizing safety at sea. In November 2011, Admiral was acquired by Tecnomar shipyard. "Admiral yachts range completes the Tecnomar portfolio and allows the creation of new synergies and growth opportunities" says Giovanni Costantino, then Chairman and CEO of Tecnomar. Admiral offers 11 different series in steel and aluminum for an amount of 32 models between 37 and 145 meters long, planing, semi-displacement and displacement.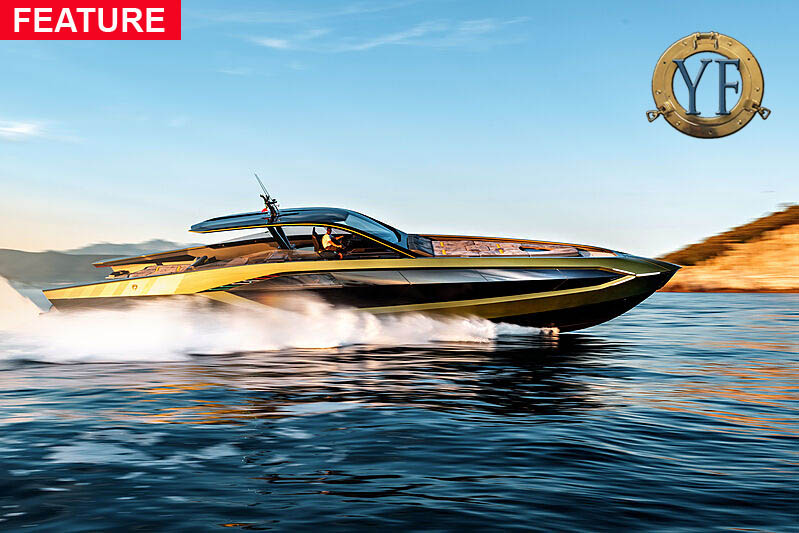 In this article we will give you a glimpse of how inside the newly delivered Tecnomar 19.2-meter Lamborgini yacht is finished. With the name Lamborgini associated with the build the partnership with Tecnomar and ultimately the Italian Sea Group, the yacht has many cues taken from Lamborghini's well-noted supercar exploits and designs. In fact, this yacht has been modeled after the Lamborghini Siàn FKP 37. While the exterior of the Lamborghini 63 is striking on the exterior it is the interior that has not really been seen.
The Italian Sea Groups' brand Admiral Yachts built the owner's latest 55-meter superyacht with distinct flair. The striking merlot red accents on the exterior make her unmistakable, especially to those who knew their previous yacht that was built by Heesen Yachts as "Quinta Essential". The owner's stepped up to a new and bigger yacht (in volume) and went to Admiral Yachts for the new custom build. Dobroserdov Design was responsible for the exterior design and the talented Michela Reverberi executed on the interior.