Palmer Johnson builds custom yachts in the yards of their Sturgeon Bay, Wisconsin, facility with sales offices in various worldwide regions. From its start as a builder of wooden fishing boats in 1918, Palmer Johnson has grown to be a leader in the United States for custom megayacht construction. The yachts feature an emphasis on a quiet, low vibration ride. The first aluminum megayacht in the United States to have both a United Kingdom MCA and Lloyd's certification came from Palmer Johnson. A Palmer Johnson yacht also set a world speed record at one time in the large motoryacht class. Palmer Johnson was founded in 1918 as Johnson and Gmack, building and repairing boats for the Great Lakes commercial fishing fleet. This continued until 1928, when Palmer Johnson, the founder's son, built the first wooden yacht. As the reputation for high quality yachts grew, so did orders for custom wooden yachts. When the United States entered WWII and country rallied behind the effort, Palmer Johnson, then called Sturgeon Bay Boat Works began producing 45' air-sea rescue vessels 65' T-class freighters. At wars' end, a series of custom yacht manufacturing began. In 1956 the company was officially named Palmer Johnson Boats and was sold to a group of local Sturgeon Bay businessmen. In 1961, after being sold to Texas Instruments founder Pat Haggerty, a commitment was made to then begin producing yachts constructed of aluminum. Later, Palmer Johnson was later purchased by Andrew McKelvey from Monster.com. Today, Palmer Johnson yachts is headed up by none-other than Mike Kelsey, Jr., who's father Mike Kelsey Sr. is largely credited with developing Palmer Johnson into a megayacht legend. Mike Jr. had been an employee of the company for many years. Prior to his departure during some difficult financial years for the company, he vowed to return to the yacht building business due to his concern for the workers in Sturgeon Bay. For more than 150 years, these craftsmen launched ships into the Great Lakes, finishing over 250 boats with the skills and expertise that has made Palmer Johnson into an American icon. Mike Jr. seized the opportunity to purchase and expand Palmer Johnson's in the early 2000's and turn back into one of America's premier yacht builders. Mike Jr. is fully credited with resurrecting the company and arranging the financial restructuring that has allowed Palmer Johnson to continue building on its successes. Now, Palmer Johnson is building several new high-style sport yachts, designed by Nuvolari & Lenard and ranging from 120' to 150 feet. The new sport yacht line is constructed from aluminum, but PJ also builds a 123' yacht from fiberglass in the Sturgeon Bay yard.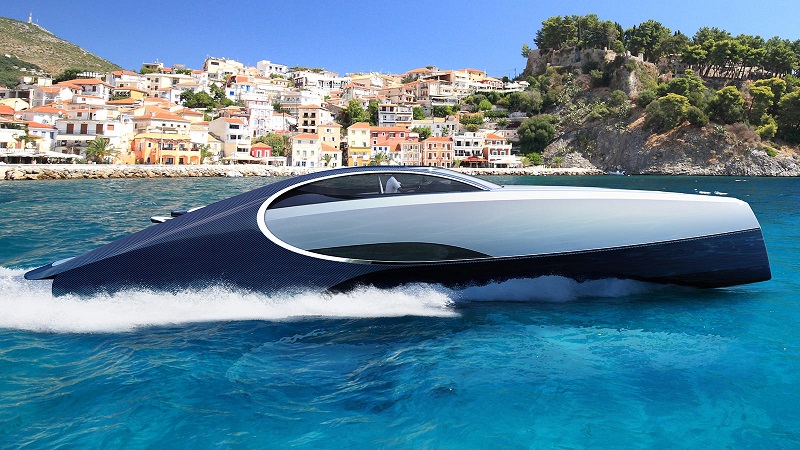 A collaboration between Palmer Johnson and exotic supercar manufacturer Bugatti has resulted in a line a fast superboats between 55 and 88-feet long. The boat we are focusing on is the Niniette 66 which is based off Bugatti's Chiron supercar. Carbon fiber plays a large part in the construction of this craft not only giving the vessel a high-end look but pays homage to Bugatti's material of choice in many of their supercars. Palmer Johnson too has some light experience utilizing this high-end material in their 48-meter SuperSport Series.
"Khalilah" is the name of Palmer Johnson's latest delivery and she is the first unit in the brand new PJ SuperSport Series. Palmer Johnson continues the trend of launching the first hull of a new series in a gold-like paint theme. If you cast your mind back to the first PJ150 you would remember that the first unit in that series was gold painted and interestingly called "O'Khalila". The SuperSport is a new series from the American yacht manufacturer taking in the extensive use of Carbon fiber in the yacht's build. The carbon fiber construction allows Palmer Johnson to attain certain parameters such as light-weight construction, increased fuel efficiency while maintaining higher performance characteristics.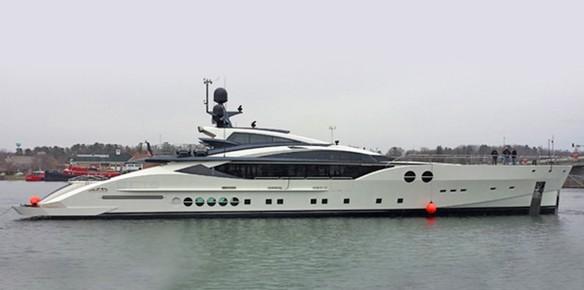 Palmer Johnson delivers 52.4-meter superyacht "Bliss" American shipyard Palmer Johnson has delivered the second PJ170 hull built under project name 'Apollo'. We know now that her final name is "Bliss" and features a design on the interior by Nuvolari & Lenard with construction managed by Moran Yacht & Ship. Bliss is similar to "DB9" with one major difference besides the exterior paint and interior decor. Bliss actually has a semi-enclosed sundeck where is DB9 is open in that area. She features a large 26-foot counter-current pool on the foredeck, sure to be a hit with guests. Guest accommodation onboard Bliss is for ten in five suites. Now that she is delivered you can expect to see her sailing the global scene. For more information: Palmer Johnson 128 Kentucky St Sturgeon Bay WI 54235 Palmer Johnson ***