Since 1969, McMullen & Wing Yachts has forged a name for itself in the New Zealand boat-building industry. Early years saw McMullen & Wing emerge as a pioneer in aluminum yacht construction. Over the years McMullen & Wing has been called upon to construct vessels of many different sizes and types. In addition to race winning sailing yachts, they also produce motor yachts constructed of varying materials, and a range of light commercial vessels including the construction of Police and Pilot boats, and passenger vessels. In 1986 the company was purchased by David and Terry Porter and has developed from a small builder into one of New Zealand's most prominent yacht and ship builders. At present there are over approximately 80 staff on site covering management and administration, yacht building, design, electrical, engineering, joinery and polishing, laminating, and welding and fabrication. The Porters have expanded operations towards the refit and more recently the construction of Superyachts, large Sportfish vessels, and custom designed high performance inflatables (RIBs). In 1985 the company had won the contract to build the first 3 composite-hulled 12-metre racing yachts for the 1987 America's Cup Challenge. This event set McMullen and Wing as prime contenders to build challenging boats for the 1995 Cup, an obvious success in company history with Black Magic winning the 1995 Challenge, and demonstrating McMullen & Wing's ability to build hi-tech racing boats to extremely high levels of accuracy. McMullen & Wing's present focus is within the superyacht industry. Company expansion is underway with the construction of new management offices and administration facilities, and the enlargement of the Design Office and the Store, all to ensure improvement and innovation in McMullen & Wing's comprehensive superyacht building facilities.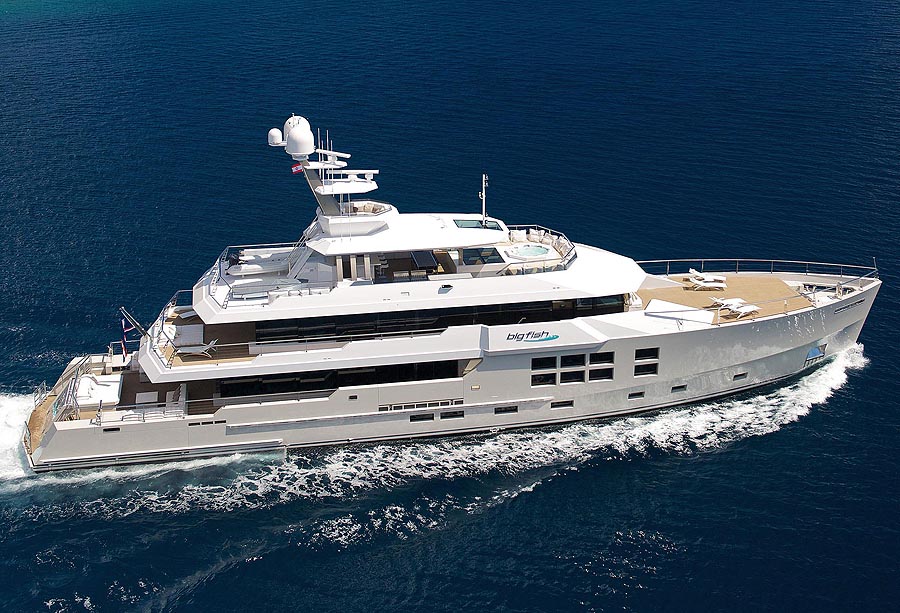 Want to get away? Really-Really-Ahh-Way? How about the Ends of the Earth? Antarctica; the ice-covered South Pole? Brr-rr, yet warm enough to support armies, zillions of penguins, seals, whales, and other denizens? Or, perhaps the steaming Amazon, that fabled jungle river brimming with notorious mysteries; and piranhas? Then, the world's ultimate summit; the Northeast Passage at the high crest of Russia, the North Pole and through the Arctic Circle? Anywhere else; you name it. BigFish, the luxury expedition vessel by newly inaugurated Charter company Aquos; gets you there. Fascinating journeys; other ultimate possibilities – Tahiti, Patagonia, New Pomerania, Mount Erebus Volcano – lurk attractively for the sea's most unique, far-away-escape vessel, awaiting your consummate choice. New Zealand charterer Aquos debuts this exciting new 147' luxury expedition yacht, for the very wild at heart. She's BigFish, another excellent work of sea-going mastery, designed by highly creative Naval Architect Gregory Marshall. This sea-going marvel is here, ready to thrill you.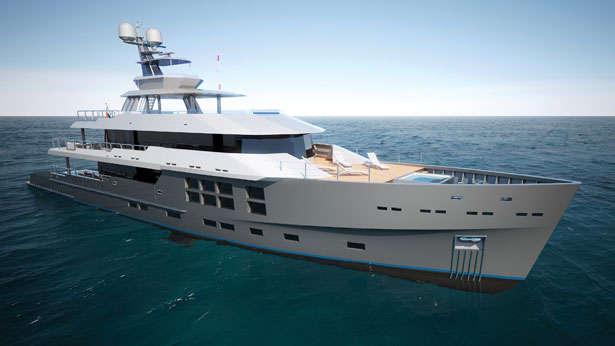 McMullen & Wing is pleased to release new renderings and lay-out options for the spectacular 50-meter steel expedition "Big Star". This luxury explorer is partially completed at McMullen & Wing's shipyard in Auckland, New Zealand. With an asking price of $30 million, this is an unparalleled value for a new build of this size and pedigree. Designed in partnership between McMullen & Wing and Gregory C. Marshall Naval Architects, the latest designs bring together all the capabilities of a proven offshore explorer with all the comforts of the finest superyachts.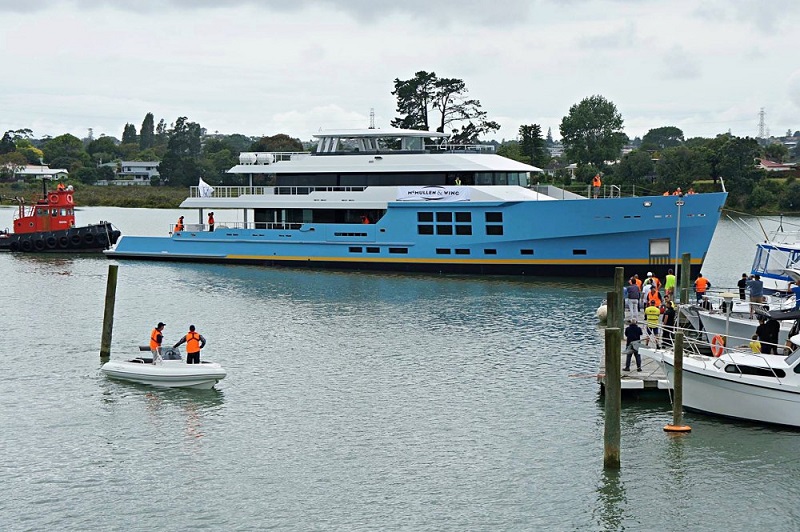 New Zealand based yacht builder McMullen & Wing has technically launched their latest yacht. It naturally represents their first launch for 2016 too. The yacht is a 50-meter variant of their extremely widely publicized build "Big Fish". This 50-meter has had an interesting life story already and it hasn't even touched the water as yet. 'Big Fire' could have been her name and it would have been apt. For those who may not know, this 50-meter yacht was originally intended to be called "Star Fish" but with just half a year or so left in the construction, it caught fire at the yard severely damaging the yacht in the process. This left the yard with a lot think about in regards to the build back in 2012 but luckily in 2014, a new owner was found and thus sold to them. Some aspects of the yacht were changed to suit the new owner's tastes inclusive of the bold ice-blue hull with a distinctive yellow boot stripe.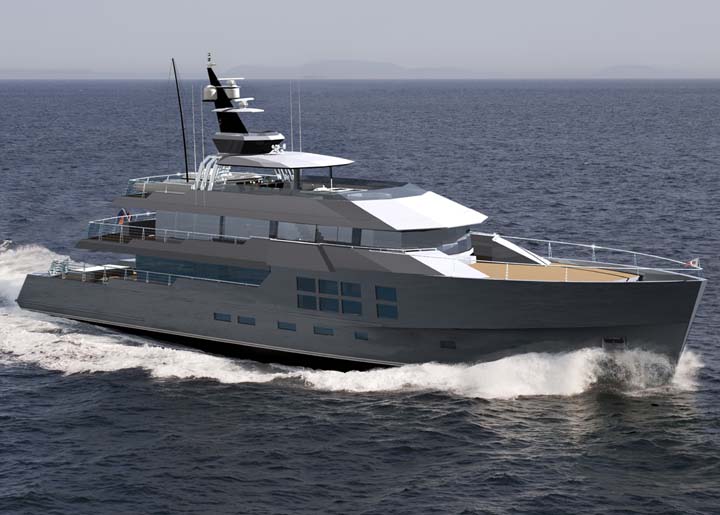 BIG FISH is the current project underway at McMullen & Wing Ltd, New Zealand. A striking contemporary design she is already catching the eye of passers-by with most of the hull and superstructure complete. This custom design from Gregory C. Marshall Naval Architects is a 45m large volume steel and aluminum motor yacht engineered for remote operation throughout the Pacific.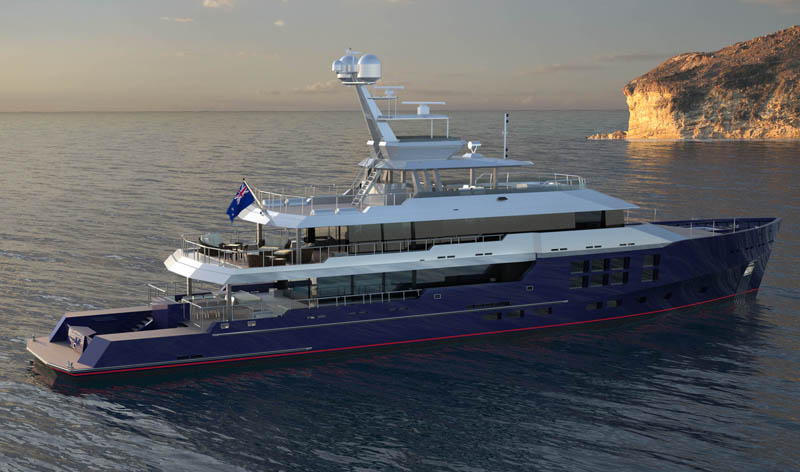 McMullen & Wing has released fresh details of their 50m luxury expedition motor yacht currently under construction. The new 50m project is a true ocean adventurer, commissioned by a buyer seeking to explore the world in comfort and security. The yacht, still identified publically only by its yard number 1016, is a 50m long range displacement motoryacht, featuring naval architecture, exterior styling and interior design by Gregory C Marshall Naval Architects, together with McMullen & Wing's substantial in-house design team. This new project is a clear evolution of the same team's much admired 45m BIG FISH design. In styling, BIG FISH inspired the yachting world with her combination of classical but muscular proportion, striking architectural lines and extensive full height glazing, wrapped around a light, contemporary, relaxed interior.