Christensen Yachts is one of the industry's leaders in composite fiberglass yachts. Dave Christensen backed into yacht building when he commissioned a custom yacht for himself, only to find customers clamoring for it ... and the 2nd and the 3rd so, in the mid-1980s, he opened his own yacht building factory on the Columbia River to build a line of megayachts. The Christensen fleet ranges from 115 feet to 155 feet in length and is built in compliance with the American Bureau of Shipping and the U.K. Maritime and Coastguard Agency classification standards. The facilities at Christensen Shipyards can hold a number of superyachts at one time and up to 170 feet in size, in the midst of the building process. Christensen hull molds allow for a wide variety of options during construction. Their yachts are built utilizing a sandwich composite method. For example, the hulls are Double-Cored cell that is approx. 2-1/2 inches thick, while the superstructure is comprised of Divinycell-core. The result is very strong composite yachts. Christensen Yachts facility consists of over 160,000 square feet of climate controlled manufacturing space and a seven-acre marina. The state of the art facility allows them to adhere to high manufacturing standards and build yachts of unyielding quality. Nine large manufacturing and assembly bays, one of which houses their expandable mold for hulls from 100 to 165 feet, are at the heart of the facility. One bay is fully enclosed to create a clean, controlled environment in which to paint yacht exteriors. The location of the electrical department, metal shop, wood and metal paint shops, cabinet shop and upholstery department make it convenient to transport parts to the yachts under construction. The gated and enclosed seven-acre marina is a secure area for in-water work and yacht deliveries, and can accommodate up to seven Christensen yachts up to 350 tons. Christensen Yachts is based in Vancouver, Washington.
The 50-meter superyacht "Chasseur" is now completed by American yard Christensen Yachts. The new 50-meter yacht is one of two that launched around the same time by this builder -the other being "Silver Lining". New images by Jeff Brown showcasing the interior of the yacht are now available. The interior was completed to a design by VARO Interior Design while the exterior has been done in-house by Christensen themselves.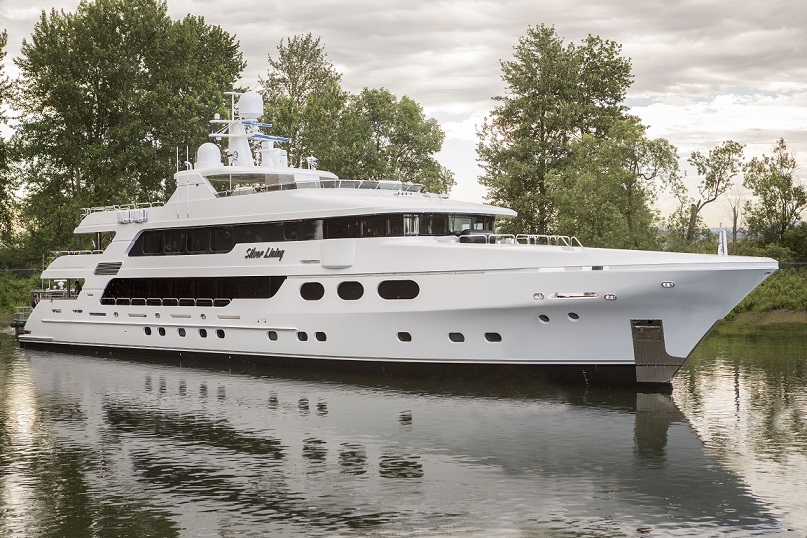 United States yard Christensen Yachts have launched another 50-meter superyacht. This time around it is the "Silver Lining" representing the first launch of 2016 since the ownership changed for the yard. Another yacht ("Chasseur") is expected to be launched this year and pretty soon as Christensen wants to have two of these new yachts displayed at the Fort Lauderdale International Boat Show (FLIBS).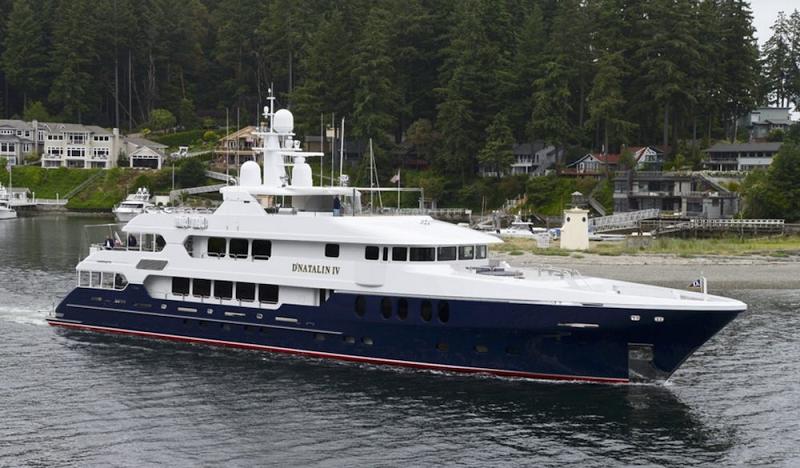 Christensen delivers 49.9-meter superyacht "D'Natalin IV" Christensen happily announces the delivery of their latest launch, the 49.90-meter superyacht "D'Natalin IV". We are so happy to have D'Natalin IV be the first Christensen Shipyard Custom Series Yacht delivered since the 2011 launch of "Remember When". This magnificent yacht with its bold red, white and blue exterior motif symbolizes American strength and perserverance, both halmarks of the Christensen brand. The owners of D'Natalin IV were wonderful to work with and are true American patriots for investing in such a beautiful Christensen yacht. We truly appreciate where we are today, because of our valued customers." Joe Foggia Christensen Shipyards, Ltd. Her transitional interior by Carol Williamson and the owners combines traditional raised panel millwork, with contemporary furniture and fabrics. "There was this great collaborative experience in meetings with the owners which allowed us to integrate their love of the traditional with more contemporary styling cues…the final design is elegant, yet inviting and comfortable", commented Carol Williamson of Carol Williamson & Associates. The yacht's owner commented "Christensen outdid themselves in delivering the most advanced yacht in their history! My family and our project lead, Christian Bakewell, worked very hard with the designers and engineers to get the details right. I could not be more pleased with the results. The layout of her four spacious decks make D'Natalin IV the most comfortable yacht I have ever owned, and I never get tired of staring at her beautiful blue hull". For more information: Christensen Shipyards, Ltd. 4400 SE Columbia Way Vancouver, WA 98661 www.christensenyachts.com ***